Welcome to Adam's Mushrooms.
Due to corona virus our farmers' market schedule is pending. Currently Proctor is on a two week suspension, we're hoping we can resume markets April 11th, stay tuned. Puyallup farmers' market has delayed it's opening date by two weeks for now putting it out to May 2nd. We'll keep posting the latest here.
If you live on the Key Peninsula or in the / Gig Harbor / Tacoma / Puyallup area, we can get fresh mushrooms and foraged greens out to you in addition to all the other products we offer: Select local pickup at checkout.
Every Sunday we are offering local pickup locations for the week's orders. I'll be bringing orders out to the usual site of the Puyallup farmers' market (behind the pioneer park pavilion on 4th Ave), from 10:45-11:30am, Proctor Farmer's market (27th and Proctor) from 12-1pm, immediately followed by a Gig Harbor meetup from 1:15-2pm at the Starbucks off of Kimball Drive. — If you are local to the Key Peninsula (or feel like a road trip), let me know and we can meet in Key Center almost anytime!
Also please go support our local restaurants who remain open for take away. This pandemic has been particularly hard on them, the chefs who were regular purchasers of our mushrooms for many years deserve our love, as do the ones who have never once bought a mushroom from us. Stay safe and eat well friends!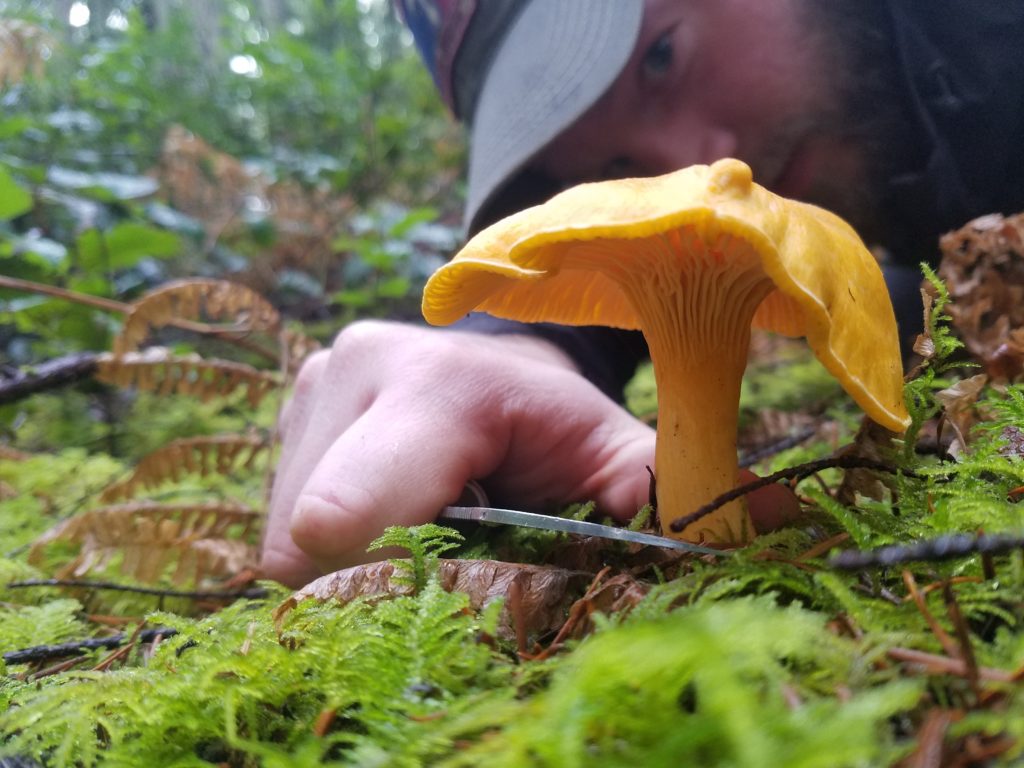 Photo: Adam harvesting a prime chanterelle in a neighboring forest.
Please have a look around and if anything seems a miss or if you have any questions, get in touch via the comment page, we check our email regularly and will get back to you soon!
Best,
Adam