Welcome to Adam's Mushrooms.
PLEASE NOTE: We will not be at the Puyallup farmers' market this Saturday (July 25th) taking a weekend of R&R with the family, Drew will be running Proctor farmers market!
Puyallup farmers' market opens Saturday, May 9th! New temporary location to allow for greater spacing out:
South Hill Mall, 3500 South Meridian, Puyallup WA 98373, we will be in the Southwest parking lot, near former Sears store (you won't be able to miss it!). — This is the pickup spot for Puyallup orders.
Broadway farmers' market opened this Thursday (May 7th) and will run every thursday from 10:00am-3:00pm.
Proctor farmers' market is open every Saturday from 9:00am-2:00pm.
Gig Harbor will still have a Saturday drop point after the market at 3:00pm at the Starbucks off of Kimball drive.
All markets have a modified look and feel in order to keep up with current best practices for social distancing. Face masks are required, and while it took us a second to get used to it, makes for a very safe feeling atmosphere at the market.
Pre-orders are strongly encouraged.
If you are local to the Key Peninsula (or feel like a road trip), let me know and we can meet in Key Center almost anytime!
If ordering $50 or more and live within the areas mentioned above, feel free to select free delivery and we'll deliver your order to your door.
Also please go support our local restaurants who remain open for take away. This pandemic has been particularly hard on them, the chefs who were regular purchasers of our mushrooms for many years deserve our love, as do the ones who have never once bought a mushroom from us. Stay safe and eat well friends!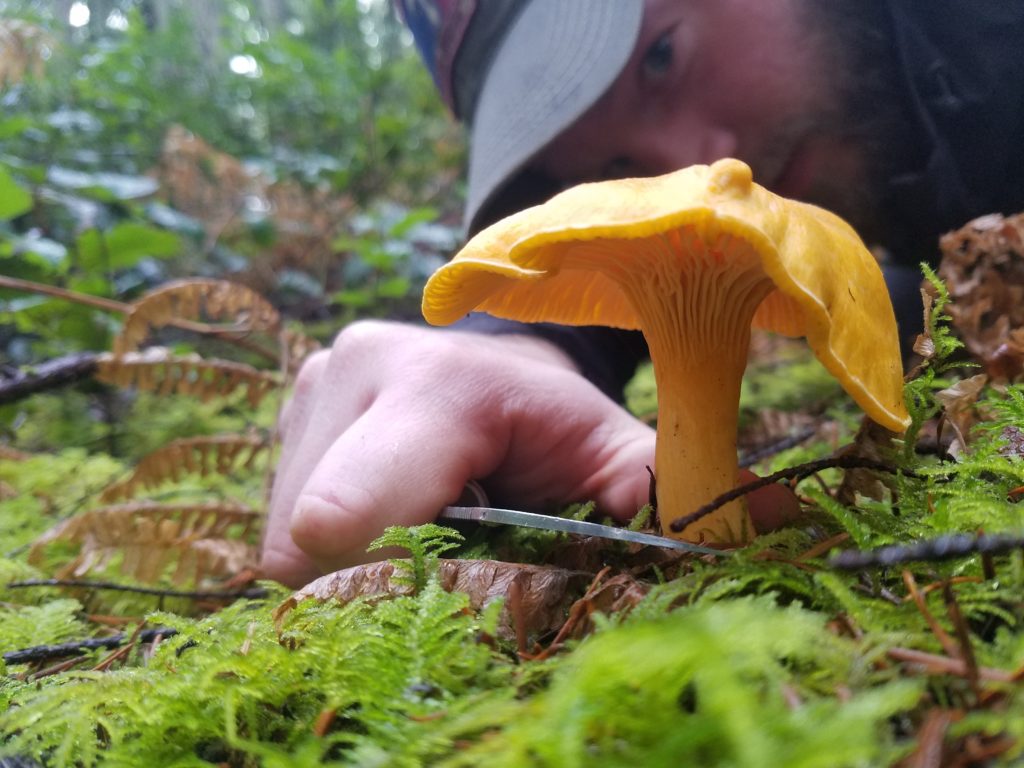 Photo: Adam harvesting a prime chanterelle in a neighboring forest.
Please have a look around and if anything seems a miss or if you have any questions, get in touch via the comment page, we check our email regularly and will get back to you soon!
Best,
Adam